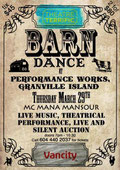 WHEN:Thursday March 29th 2012
    7PM-10.30PM
WHEHE:Performance Works, Granville Island
Theatre Terrific Society is hosting Barn Dance 2012, a fundraiser to support opportunities for people from many minority and disability communities to produce original, compelling drama. Our work also supports opportunities for theatre professionals to expand their craft while also challenging and entertaining Metro Vancouver audiences.
At this fundraising event, we will invite guests to Performance Works for a spectacular evening of fun food and festivities. A live band will get your toes 'a tapping and your heart 'a thumping. Barn Dance 2012. Will have a silent auction which will combine a variety of donations to create many fabulous "experience" items, from a book-lovers' basket to destination prizes with hotel, dinner, movie. We will also have a live auction and our infamous cake auction! We very much appreciate community partners' support in providing many worthwhile items, and our experienced team of organizers will ensure that your organization is shown in its best light to prospective clients or customers.
For the last twenty-seven years, Theatre Terrific has been providing opportunities for many people through cutting-edge theatre, classes and workshops. Barn Dance 2012 will assist us in continuing to offer high quality, serious theatre to Vancouver and high quality theatrical training to people who might otherwise not have this opportunity. We have expanded our reach in the last year, and will continue to do so into 2012 and beyond.
【関連サイト】