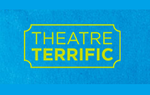 Egni's Eye is inspired by the true story of Inge Morath, photojournalist and last wife of playwright Arthur Miller. Egni is a palindrome of Inge's name that she used to help sell her photography in a post-war world biased against all things Germanic. They met on the set of The Misfits when Miller was still married to Marilyn Monroe. Inge had been hired as set photographer. Miller and Monroe subsequently divorced. Inge and Miller married, had a daughter and three years later a son, Daniel Miller, born with Down Syndrome. His existence was never acknowledged. Neither parents obituaries, Miller's autobiography Timebends or any of their many publications acknowledge Daniel's existence as a member of the Miller family. (VANITY FAIR-Sept 2007- Arthur Miller's Missing Act)
Theatre Terrific is a pioneer working with artists of all abilities in the rigorous creation of provocative theatre.
26 years strong, Theatre Terrific is Western Canada's oldest inclusive theatre company. Our continued open door policy respects, challenges and supports performers with and without developmental, physical, mental health, race, language and gender issues.


April 12 - April 21
Location: Performance Works (1218 Cartwright Street, Vancouver, BC)
Time: 8:00 pm
Additional 2:00 pm matinee on Saturdays

Price: $28.75 Adults
         $23.75 Concession *(Seniors/Students/Low Income)

Order: by phone 604.684.2787
                         Additional $5.00 per order for phone orders.
          Online  Tickets Tonight
About Theatre Terrific