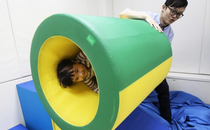 Operation Santa Claus is set to revive a service offering affordable therapy for autistic children from low-income families that was suspended due to a lack of funds.Rainbow Project's small learning centre in Sai Ying Pun provides occupational and speech therapy at subsidised charges for autistic children aged three to eight.
For many struggling families, the fees of most private centres are beyond their reach, while the queue for government services usually takes about two years. Some children diagnosed at a later stage may miss the "golden" training period from the ages of 2 ½ to four, said Keith Lee Seng Hoe, the organisation's project director.
"Parents of autistic children struggle a lot, they don't know how to teach them," he said. "Many children have behaviour problems, and we explain to parents why they behave that way."
Rainbow Project started in 2000 with just one classroom and five staff. The service soon expanded to provide therapy for 30 autistic children who needed financial assistance and special schooling. However, it closed the therapy department last year because there were not enough donations. About 20 children are now waiting for the service to resume.
Five-year-old Sasa Lao Kwan-man is one of them. When she was about eight months old her mother, May Li, found that she made no eye contact with people. She was not interested in her toys and she would repeat certain actions like opening and closing drawers for a long time.
"It was like she was living in her own world in outer space," said Li, a single mother who works part-time.
Lao was diagnosed with autism at the age of two. "I had never heard of autism at the time," said Li. "I didn't know what to do."
She could not afford therapy, but she could not bear to let her daughter's "golden period" pass. Through an introduction from another centre helping autistic children, Lao received 10 occupational therapy sessions that helped improve her motor skills. Li also learned ways to stimulate her daughter's senses.
Operation Santa, a charity campaign jointly organised by the South China Morning Post and RTHK, is raising funds for the centre to employ an occupational therapist and a speech therapist so Lao and the other children will soon get the help they need.
【2013.11.19 South China Morning Post】