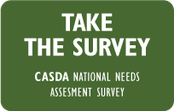 If you are an individual with ASD, or you live or work with someone with ASD, please take this survey at www.asdalliance.org to inform a national autism plan for Canada. It should take about 15 minutes.
CASDA needs your help to ensure the development of a National Autism Action Plan, via Canada's first ever National Autism Needs Assessment Survey
We need 5000 Canadians to complete our survey, between April 2-June 30, 2014
It only takes 15 minutes to complete the survey
Here's how you can help us #GetTo5000
Take the Survey
CASDA is working to bring together all of the voices of Canadians affected by Autism.  Help us make this happen, by participating in this ground-breaking survey.  Plan to take the survey, if you are:
Individual with ASD
Family member of individual with ASD
Caregiver of individual with ASD
Educator or professional who work in the ASD Field
Spread the Word
Please help us #GetTo5000 .While 1 in 88 people in Canada will be diagnosed with Autism, there are thousands more who live, work and care for them.  We need your help to make sure all of them have their voices heard.
Add a message to your email signature
Post our digital button to your website or blog.
Post our message on your website, newsletter or email it to your contacts.
Print and distribute our poster wherever you can (message board, via email, etc.)
Customize and distribute our news release to all of your media contacts.
Review our FAQ for more details.
For more information on Autism in Canada - National Needs Assessment Survey for Families, Adults with ASD and Professionals, please contact Margaret Whelan, CASDA Project Manager at 416-522-9180 or at info@asdalliance.org.